Recording of the Webinar 'Taking Stock of the Migration Data in Europe'
Posted 2021-06-28 14:55:11 by Douglas Lewis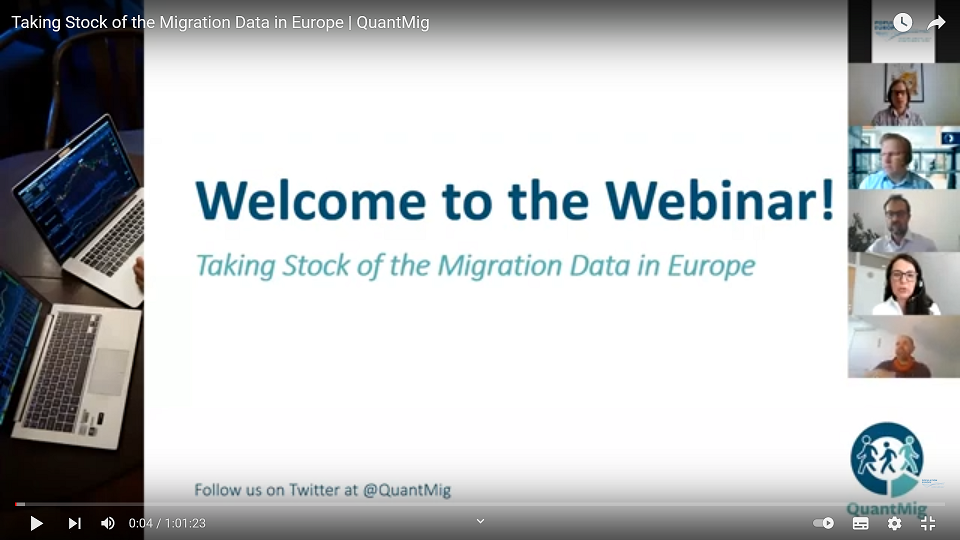 This webinar is divided into two parts. In the first part, the QuantMig Data Inventory on stock and flow data on migration towards and within the EU is introduced -  https://quantmig.eu/data_inventory/
This data inventory provides an overview of what data on migration stocks and flows is available and can assist users in making the right choices in what dataset to choose in order to answer their migration-related research question.
The full recording of the webinar (1h01') is available at the bottom of this page. You can also check out additional Q&A questions from the webinar here.
---
Speakers:
Mathias Czaika, Head of Department and Professor in Migration and Globalisation, Danube University Krems
Jarl Mooyaart, Researcher at the Netherlands Interdisciplinary Demographic Institute (NIDI)
Cris Beauchemin, Senior Researcher, French Institute for Demographic Studies (INED)
Nikola Sander, Research Director on Migration and Mobility, German Federal Institute for Population Research.
Guido Tintori, Policy Analyst at the Joint Research Centre, Demography, Migration and Governance Unit, European Commission
Moderated by Daniela Vono de Vilhena, Deputy Executive Secretary of Population Europe / Max Planck Institute for Demographic Research
Presentation Materials:
This work has received funding from the European Union's Horizon 2020 research and innovation programme under grant agreement No. 870299 QuantMig: Quantifying Migration Scenarios for Better Policy. This document reflects the authors'view and the Research Executive Agency of the European Commission are not responsible for any use that may be made of the information it contains.