Attracting Skills and Talent to the EU: What should we focus on?
Posted 2022-06-23 08:49:42 by Daniela Vono de Vilhena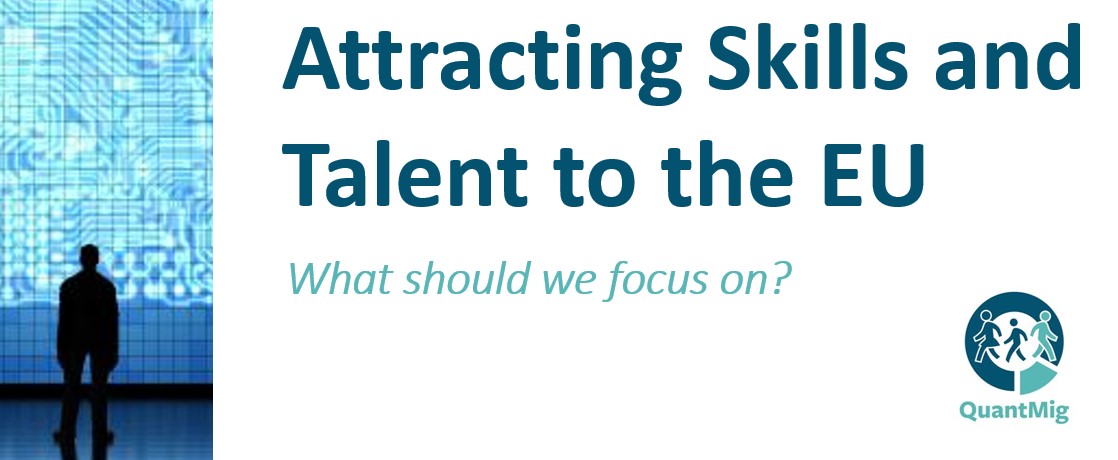 This webinar is now online: https://youtu.be/Yshm8bPtFU4
Attracting Skills and Talent to the EU: What should we focus on?
This QuantMig webinar offers insights on the European Commission's Communication to the European Parliament, the Council, the European Economic and Social Committee and the Committee of the Regions on 'Attracting Skills and Talent to the EU'. The Communication discusses potential operational and legislative initiatives to attract skills and talent to the EU.
The online event was held online on June 15, 2022. Participants included Silke Anger, Chair of Economics, in particular Economics of Education at the University of Bamberg and Head of the Department Education, Training, and Employment Over the Life Course at the German Institute for Employment Research; Lucie Cerna, Associate Research Fellow at the Centre for Liberal Arts and Social Sciences, Nanyang Technological University Singapore; Mathias Czaika, Head of Department and Professor in Migration and Globalisation, Danube University Krems, Austria; David De Groot, Policy Analyst at the European Parliamentary Research Service (EPRS); María Miyar Busto, Associate Professor, Department of Sociology II (Social Structure) UNED, Madrid; Jackline Wahba, Professor of Economics at the Department of Economics at the University of Southampton (UK), and Director of Research in Economics. Jakub Bijak, Professor of Statistical Demography at the University of Southampton served as moderator.
This work has received funding from the European Union's Horizon 2020 research and innovation programme under grant agreement No. 870299 QuantMig: Quantifying Migration Scenarios for Better Policy. This document reflects the authors'view and the Research Executive Agency of the European Commission are not responsible for any use that may be made of the information it contains.